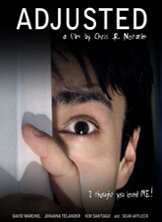 Chris Notarile of Blinky Productions is likely the most prolific fan filmmaker ever (as profiled in my book, Homemade Hollywood). While he's well-known for his performances as (and for bringing us Tawnya Manion as ), not all his flicks are fan productions. In fact, Notarile's latest movie, Adjusted, is an original horror short that was inspired by the last few minutes of Psycho II (yes, the sequel) after he caught the movie on TV recently.
When mild-mannered David Britman comes home to find his wife not only sleeping with another man, but packed and ready to leave him, it sends him on a downward spiral into delusion and madness. In the style of Alfred Hitchcock's Psycho, Adjusted can be considered a modern-day noir thriller about love, lust and murder.
SEE ADJUSTED AFTER THE JUMP!