Homemade Hollywood: Fans Behind The Camera is the first book to cover the world of fan films, and is available worldwide at major bookstores, and online at popular booksellers like Amazon, Barnes & Noble, Borders and others. It is also available directly from Continuum Publishing.
Who would swing off a six-story building for a homemade Spider-Man movie? Why would newlyweds with a baby spend $20,000 on a Star Wars film from which they can never profit? How did three nobodies blow Steven Spielberg's mind with an Indiana Jones flick they made as teens in the Eighties? They're all part of the Fan Film revolution–an underground movement where amateur filmmakers are creating illegal movies starring world-famous characters, from Batman to Captain Kirk to Harry Potter.
Homemade Hollywood: Fans Behind The Camera follows their stories and more as it traces fan films from the 1920s—when con men made fake Little Rascals movies—to the YouTube videos of today. Regular people are using camcorders, computers and classic characters to make movies that fans want to see – and which lawyers, copyrights and common sense would never allow.
Blending pop culture history with guerilla filmmaking tales and an exploration of Big Media's changing attitude towards its audience, Homemade Hollywood gains insights from the filmmakers themselves, while Hugo Award-winning author Timothy Zahn, director Eli Roth (Hostel, Cabin Fever), punk icon Tommy Ramone, fandom scholar Henry Jenkins and many others discuss their roles in the history of fan films. A foreword from Chris Gore, founder of Film Threat and movie expert on G4 TV's Attack of the Show, sets the tone. Homemade Hollywood is a fascinating and highly entertaining study of this overlooked corner of the filmmaking world.
"A loving, exhaustive history of the fan-film…this book's a real treasure, an inspiration to amateur filmmakers everywhere."—Cory Doctorow, Boing Boing
"Part celebration, part scholarly history, Clive Young's homage to fan-made flicks is a passionate, persuasive exercise in balance."—Total Film
"Young's account is intelligent and partisan."—Times Literary Supplement (London)
"Riveting!…Grade: A"—Adam-Troy Castro, SciFi Channel
"The writing is lively; the storytelling engaging…As someone who has been researching fan culture off and on for more than 20 years, I learned something on almost every page."—Dr. Henry Jenkins, Director, MIT Comparative Media Studies Program
"Terrific…. The cool, revealing tales…make Clive Young's book, Homemade Hollywood, an absolute pleasure to read. If you're interested in fan movies, or the subterranean world of Hollywood, it's a must-read."—Annalee Newitz, io9.Com
"Young brings the rigors of a scholar and the Inside Baseball of a fan to this well-researched and -written survey…. A fascinating chronicle of how [fan film] culture came to be."—PopMatters.Com
"I just loved the hell out of this book…It's a fun, jaunty, well-organized retrospective [with] a breezy-yet-very knowledgeable style which is entertaining without being showy."—Republibot.Com
"A thoroughly entertaining read that should be required reading for teenagers who claim there's absolutely nothing cool to do in their town."—FilmFetish.Com
"It's a pretty fascinating read, one that balances scholarship – the man knows his stuff and backs up his sources extensively – with entertainment value."—Twitch.Com
"Clive Young has researched the heck out of this topic and written an entertaining, fact-filled book to boot. From Hugh Hefner's attempts at a homemade monster movie in the early 1940s to the explosion of fan films on YouTube, Homemade Hollywood covers it all. A must for the geek in all of us."—, James Bond and Tom Clancy's Splinter Cell novelist.
"Completely recommended reading! Young speaks to three levels of audience at once—diehard fans reading for behind the scenes gossip; 'fanthropologists' reading the text as research material, and casual consumers, reading for information and interest."—HardcoreNerdity.Com
"Author Clive Young has put together a really nice history of fan film in his book Homemade Hollywood: Fans Behind The Camera."—Kevin Kelly, spout.com
"He knocked this book out of the park…I had a hard time putting Homemade Hollywood down."—ComicBookBin.Com
"Homemade Hollywood appeals not just to the fanboy, but also to those who enjoy good books about filmmaking."—Comic Related
"It is an amazingly inspirational book for filmmakers. In fact, in my opinion, it ties for best inspirational read with Rebels on the Backlot."—MicroFilmmaker
"Wonderful…Homemade Hollywood is a great read, and one that is so loaded with fun facts and behind-the-scenes stories that you cannot put it down! "—TheRaider.Net
"Clive Young's book does a great job putting together the unknown history of fan films…I never got to make a fan film, but after reading Homemade Hollywood, I wish I had."—RetroThing.Com
"The tales of these films are captivating and Young relates them via perfectly structured chapters. I thought I knew the stories behind some of the more recent films discussed in Homemade Hollywood but Young provides a wealth of new information that put everything in proper context. Great stuff."—Mike White, Editor in Chief, Cashiers du Cinemart
"This book belongs on the serious filmmaker's shelf beside Sidney Lumet's Making Movies, beside the Hollywood memoirs of William Goldman, beside the screenwriting books of Syd Field and Robert McKee, and indeed all those other standards that filmmakers tend to own."—A. Bertocci, Associated Content.
"I bought a copy and read it in two days, then bought a second copy to send to a family member. For anyone who is interested in fan films or just loves filmmaking, this is a must read."–Phase II eMagazine
The Guardian (London, UK): Enterprise Reprised (quoted)
SFX Magazine Interview with Clive Young
Confessions of an Aca/Fan (HenryJenkins.Org) Interview with Clive Young, Part 1 and Part 2
NonFiction, WBAI-FM (3/20/2009): Interview with Clive Young
Fan Film Podcast, Episode 37: Interview with Clive Young
MajorSpoilers.Com Podcast, Episode 80: Interview with Clive Young
Spout.Com Interview with Clive Young
Cinematical coverage
Newsday coverage
io9.Com review/write-up
Home & Amateur (Center for Home Movies' Blog) coverage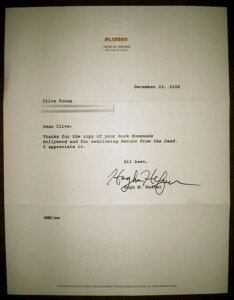 Letter from Hugh Hefner, founder/editor of Playboy,
regarding Homemade Hollywood and its coverage of a fan film he made at age 16:
"Thanks…for mentioning Return From the Dead. I appreciate it."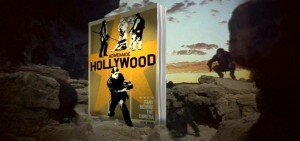 Fan art from Stuart Bassinger (director of Moonraker '78 fan film)