FAN CINEMA TODAY is calling it a day.
Since its debut in January, 2007, FCT has presented the latest news in the emerging international fan film community. Many—including myself—doubted that the site would even generate one story a week, but most of the time, it featured a new post every weekday, providing news, analysis, criticism, interviews and more.
Last month, FCT had its most readers ever, with more than 18,500 individual visitors combing its pages. For a niche blog, those are great numbers, achieved with no advertising and barely any promotion (only because I didn't have time!). That means the site gained notoriety the old fashioned way: It earned it, hopefully due to fun topics and perhaps some decent writing along the way.
However, while the site's growing success has been exciting to watch, it has come at a price, because FCT became far more work than I ever expected—indeed, far too much for a hobby that was supposed to be an occasional diversion. As a result, and after months of deep contemplation, I'm shuttering FCT as of today.
Thank you for reading Fan Cinema Today. I hope you found it worth your while. I appreciate the support of everyone who commented, suggested, criticized, laughed and contributed. You made this a vibrant place and I'm grateful for your help.
While there won't be any new content, you can get your fan film fix by using the Search box on the site—there's nearly 500 different posts on FCT, so there's bound to be something here you never saw before. Also, I'm still be on Twitter () and please visit my own website, CliveYoung.com!
Since the blog is now over, here's a going-away present: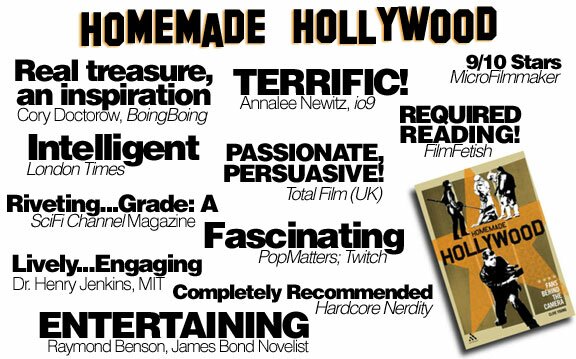 It's summertime—time to hang out and take it easy. Whether you're going to the beach or tying up the bathroom after a dozen BBQ chili dogs, you're gonna need something to read. Naturally, I recommend the only book on fan films, Homemade Hollywood: Fans Behind The Camera, by me. And just in case you don't actually own it, here's the present:
THE HARDWARE WARS CHAPTER FROM HOMEMADE HOLLYWOOD!
Download it right now and discover:
• Why George Lucas calls it his favorite Star Wars parody of all-time!
• Why one of the filmmakers says Lucas is lying!
• How Oingo Boingo and Sesame Street influenced it!
• What happened when 20th Century Fox lawyers cornered the producer!
• How Francis Ford Coppola took the follow-up, Porklips Now! (Hint: Badly)
• And lots, lots more!
You'll laugh, you'll cry, you won't kiss any bucks goodbye, 'cause it's FREE!


If you like it, pick up Homemade Hollywood at your local bookstore, Amazon, or other highly esteemed outlets. All those rave reviews on the right side of the screen can't be wrong; give it a shot and see for yourself. Think of it as my way of saying thanks for reading the blog.
All the best—Clive