FAN CINEMA TODAY covers the world of fan-produced moving entertainment—primarily (and almost exclusively) "fan films." With rare exception, it is written by Clive Young, author of the first book about fan films, Homemade Hollywood.
WHAT IS A FAN FILM?
An unauthorized amateur or semi-pro film, based on pop-culture characters or situations, created for non-commercial viewing.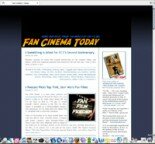 FAN CINEMA TODAY, VERSION 1:
FCT was founded on January 26, 2007 to provide daily, Monday-through-Friday coverage of the world of fan films. The early version followed a schedule of:
Monday: News
Tuesday: Reviews day
Wednesday: Analysis
Thursday: Gray Areas
Friday: History
That was Spring, 2007—ancient history now. I'd start writing at midnight and finish up daily 900-word posts around 3AM, only to get up at 7AM to go to work. The workload took its toll, and eventually it was shut down for a year, sustained by once-a-month posts while I wrote Homemade Hollywood.
FAN CINEMA TODAY, VERSION 1.5:
When the site sputtered back to life in late April, 2008, it finally took on a proper blog-like existence—short posts, once or twice a day, with no strict schedule. Also, the site began to spend far less time musing about IP and copyright law, and far more time telling readers about cool underground flicks.
FAN CINEMA TODAY, VERSION 2:
On January 26, 2009—the second anniversary of FCT—the site underwent a sizable redesign to make it easier to read, more fun to explore and give it an up-to-date look. Some new features included a randomized header; an Amazon store for fan film-related books, DVDs and filmmaking gear; sidebars for better organization; and Google AdSense ads that rarely seem to relate to the material on the page.
For those who care about these things, the new blog theme is a moderately modified version of Modmat by Chris Chrisostomou.