The recent release of Ghostbusters: The Video Game for , , and has been a big hit. Most of that's due to the reunion of almost all the original cast to provide voices for their CGI counterparts, with Bill Murray as Dr. Peter Venkman; Dan Aykroyd as Dr. Raymond Stantz; Harold Ramis as Dr. Egon Spengler; Ernie Hudson as Winston Zeddemore; Annie Potts as Janine Melnitz (their receptionist); and William Atherton as Walter Peck (the jerk politician).
For fan film enthusiasts, however, there's an additional perk to the game—a veiled reference to two popular Ghostbusters fan films: Freddy Vs. Ghostbusters (2003) and Return Of The Ghostbusters (2007), both produced by Hank Braxtan.
SEE THE REFERENCE, PLUS TRAILERS FOR RETURN OF THE GHOSTBUSTERS AND THE VIDEO GAME, AFTER THE JUMP!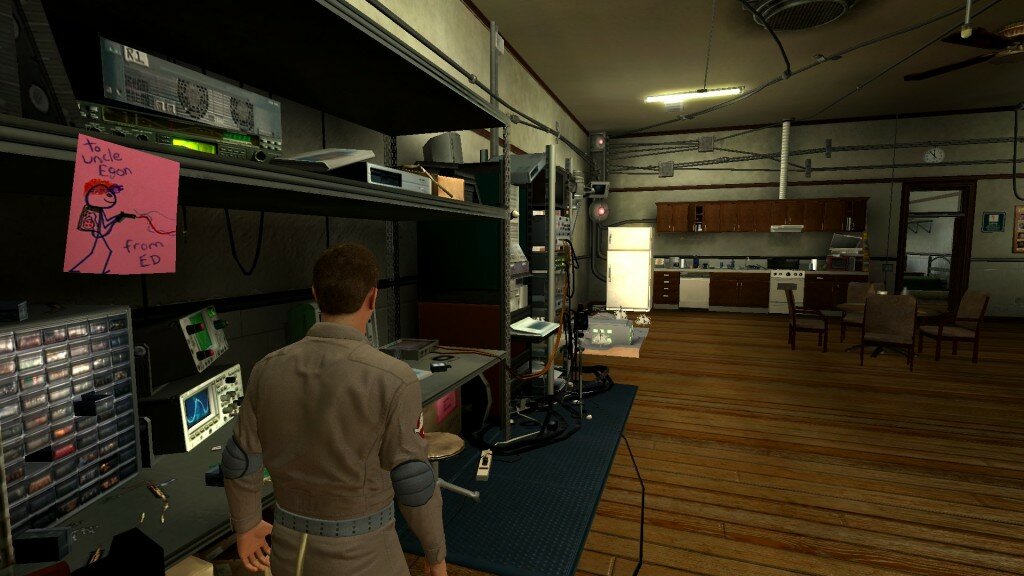 In the firehouse, upstairs near the computer in Egon's lab, there's a child's crayon drawing of a Ghostbuster firing his proton pack. The drawing is signed, "To Uncle Egon, from Ed;" that's a reference to Egon's nephew, Ed Spengler, from the two fan films. While the flicks are set in the current day, the video game takes place around 1991, so Ed would have been just a little kid back then; now that's attention to detail! So, does this make the fan films official GB canon? Give your thoughts below in the comments section! [Big thanks to Broccoli for the first pics!]